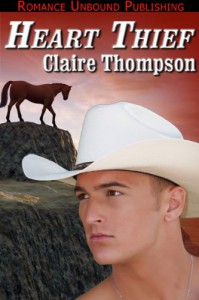 This latest novella from Claire Thompson looks at a couple different types of domination from the viewpoint of a 6' 4" sexy, ex-military sub named Luke. Luke hasn't experienced the type of submission that he has been craving and gets overwhelmed by Glenn, a rich, forceful dom who hires him to work for him while they maintain their d/s relationship. Luke later meets Sawyer, a dom who is more laid back and spiritual. Both doms offer the submission and pain he craves but in completely opposite ways.
Although the book isn't in a POV format, all but a few scenes are taken from Luke's perspective. There is a lot of sex referenced in the book, but only a few detailed scenes with the majority of it being told to us after. The scenes that are there are very strong. The novella is more about the spiritual exploration taken by Luke in comparing the two contrasting doms in his life and his acceptanace of who he is and what he needs. It's very introspective from Luke's viewpoint.
If you're like me, you'll see the ending confrontation coming and want to kick Glenn's ass regardless (as well in a few other spots). Not my favorite of Thompson's but a good read for those in particular seeking to understand the attraction to BDSM from the submissive's side.